Price Chart
Pan head + gashole
Download service of ceramic products drawings, PDF or DXF files.
[Price] Pan + gashole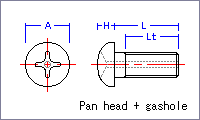 Now we are modifying price charts.
If you need to know the price of ceramic screws soon,
please contact us from the page "Contact Us" on this site.
Reference (Thread): JIS 0205-4, ISO724, ANSI/ASME B1.13M, DIN13
Reference (Head): JIS B1111, ISO7045, ANSI B18.6.7M, DIN85/7985
There is a possibility to change this price chart above without notice.
We accept an order which is out of KDA standard ceramics screws above.