Price Chart
Cap Bolt (Hexa Socket)
Download service of ceramic products drawings, PDF or DXF files.
[Price] Cap bolt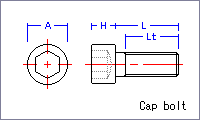 Reference (Thread): JIS 0205-4, ISO724, ANSI/ASME B1.13M, DIN13
Reference (Head): JIS B1176, ISO4762, ANSI/ASME B18.3.1M, DIN912
For keeping strength of the head, we adopt a size smaller hexagon socket of general one.
There is a possibility to change this price chart above without notice.
We accept an order which is out of KDA standard ceramics screws above.